Nardwuar vs Hot Lixx (sorta) (again)
Posted by hulafan on Aug 4, 2012
Kooky Canadian press legend Nardwuar the Human Serviette passes off Hot Lixx as having the punkest record ever created.
Airistotle Takes The U.S. Crown!!
Posted by hulafan on July 22, 2012

Finland set to take his virginity at the Air Guitar World Championships.
2012, already??
Posted by admin on May 16, 2012

Come celebrate US Air Guitar's 10th Anniversary! Coming to a city near you...
Finland Calling
Posted by admin on Sept 1, 2011

Bjorn and Hot Lixx take their intro to the ultimate forum - Oulu, Finland.
Two-fer!
Posted by admin on June 29, 2011

Hot Lixx has betrayed his people and not only entered an air drumming competition but also won.

Round 1:

Round 2:
(D)Evolution
Posted by admin on May 26, 2011

Apparently air guitar isn't enough and Hot Lixx has ventured into competitive air drumming, as well. Traitor? Troubador? Asshole? You decide.

Vote here (he is on Page 3, name Drum and Drumber)
New Opening Number, Finally!
Posted by admin on May 25, 2011

I don't know about you but that opening bit at the beginning of the regional competitions was getting tired. But, alas, here is an upgraded 2011 version:
Hot Lixx gets full treatment in China
Posted by admin on April 29, 2011

No details about his trip but we did get this transmission (file names audience, security, fecalmania, and other, respectively)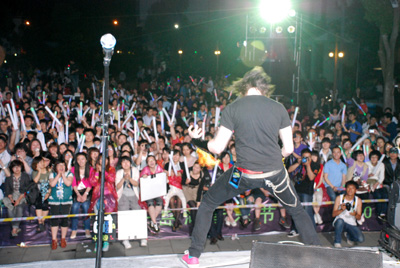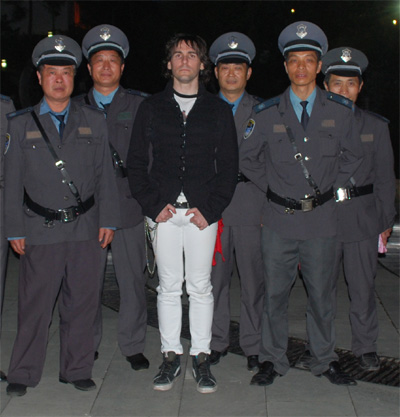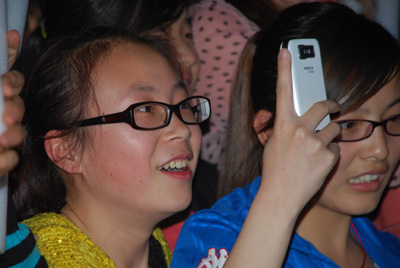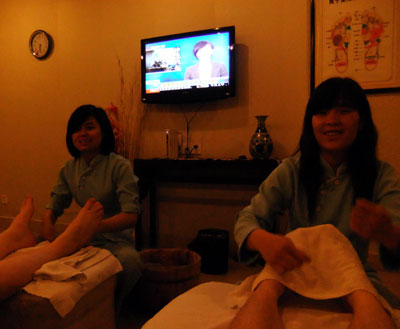 Hot Lixx back on the Chinese Rock
Posted by admin on April 21, 2011

For all you fan(s) in China Hot Lixx be returning to perform at the 1,000 Lakes Festival outside of (lemme get this right...) Hangchou(?). If you're in the neighborhood go say Hi!
Hot Lixx vs Nardwuar the Human Serviette
Posted by admin on April 9, 2011

If you are not familiar with Canada's Nardwuar then you ain't livin'. From the sounds of it, Hot Lixx gets phoned in to help interview professional air drummer, Ari Gold.
Saturday morning comes early this week
Posted by admin on March 17, 2011

Full-scale animation of Hot Lixx compliments of Linda Spain
Air Guitar in Berkeley? Mooooo.......
Posted by hulafan on February 1, 2011

AWSM, Cold Steel Renegade and Hot Lixx will be performing at 924 Gilman St this Thursday. Also performing will be Bobby Joe Ebola (Doonesbury set to music), Joe Evans III (spoken word), Alex Koll and Craigums (who bare remarkable resemblance to some of the other performers).

Thursday, Feb 3rd @ 924 Gilman St, Berkeley CA
Biggest News of the Year
Posted by hulafan on November 27, 2010

The offices of HLH have just received word that Hot Lixx has just cut his hair. More news as it develops...
For The Cause, mannnnnnn
Posted by hulafan on November 16, 2010

This Thursday Hot Lixx will be participating in the Goerge Washington High School AIDS Awareness/Prevention Benefit in San Francisco. I don't think you have to be a student to attend but it might be kind of creepy if you aren't and you show up alone.
Hot Lixx releases sex tape
Posted by admin on September 8, 2010


Hot Lixx clarifies: I retired from competing, not air guitar - pshaw!
Posted by hulafan on March 28, 2010

Hot Lixx has signed on as tour manager and judge for the USAG 2010 season.
Check here for dates and places.
Hot Lixx retires!
Posted by hulafan on September 23, 2009

Hot Lixx Hulahan dispatches from Finland:
Dear Hulafan,
I hope you got that decoder ring my management team sent you. Sorry we had to leave out the letters J-Z but with the economy the way it is we just couldn't afford them.I haven't slept in almost 3 days and it is now it is somewhere between Friday and Sunday-ish, I can't tell, so excuse me if I get all Nordic Thunder on you…
Shortly after it was announced that Ocean and I tied for 2nd place in the 2009 Air Guitar World Championships (Tied! For second! How poetic!!) I watched the new king step to his throne. It occurred to me then that this diminutive, gold lame track-suited, mustachioed, ninny Frenchman was now the figurehead for competitive air guitar. This homoerotic, crotch-stuffing spaz now represents me and the whole community in which I have become so physically, mentally and emotionally invested. This ridiculous nerd of a dork just dethroned me.
How fucking sweet is that?!?!?
Now whenever people google or YouTube "air guitar" chances are he'll be the first thing they see, and frankly I think that is pretty awesome. The Air Guitar World Championship oeuvre spans a wide spectrum, from the classic and ground-breaking C Diddy routine to the mesmerizing albeit awkward style of Zac "The Magnet" Monro to the robotic genius of The Destroyer to the chubby Chris Farley meets Forest Gump-ness of Dainoji. And now we have Gunther.
He is the real deal and anyone who caught his air band, Airnadette, can attest to his creative spirit, unique style, diverse skills, and genuine airness. Like the other greats he has no shame and gives himself fully to his craft, plus he's a funny dood to hang out with. Oh, and perhaps most important, his mustache is real.

For a year I was a man without borders, a citizen of no country, a representative of Earth. It is a good feeling. Judgement falls on your actions and not your affiliations, which is comforting when "your people" do some wacky shit you don't always agree with (war, social service cutbacks, international policy, the canceling of Megan Wants To Marry A Millionaire, etc). I was honored to pass that opportunity of "world citizen" onto someone else. Having been familiar with their work and their attitudes there were a few people I was particularly excited to pass the torch to (Buckboard? Johnny Utah? Oh yeah, that Ocean guy?) but after seeing this Gunther fella he quickly joined that list. Now, as champ, he is going to travel the world as a representative of air guitar and he is going to be fun and funny and friendly. Seeing as how this whole thing is about world peace and all I feel comfortable with him as my diplomat.
Congratulations to him and another Job Well Done to the AGWC family. They really really kicked arse this year and the turnout was ENORMOUS and ridiculously air-friendly. It was an honor to be a part of it. To all my sisters and brothers in air – fuck yeah! I'll feel you next year.
–Hot Links Hulahoop, out.
A TIE! (?)
Posted by hulafan on August 28, 2009

Ocean and Hot Lixx, cross-coast rivals and dual US representatives at this years Air Guitar World Championships, TIED.
For second.
Clash of the Titans
Posted by hulafan on July 30, 2009

William Ocean, once again, claims the US title. To recap, the title of US Champ for the last four years goes as follows:
2006: Hot Lixx
2007: William Ocean
2008: Hot Lixx
2009: William Ocean
Since Hot Lixx is the reigning World Champ and gets a buy into the finals, he and Ocean will duke it out ON THE WORLD STAGE on August 21. The competition will be streamed live here.
The Onion doesn't make fun of Hot Lixx
Posted by admin on June 11, 2009

Hot Lixx picked as Random Rules guest
Read It.
CBS turns an eye on Hot Lixx
Posted by admin on May 5, 2009

2009 US Air Guitar Season under construction
Posted by admin on April 21, 2009

The dates are still being hammered out but another year of competitive air guitar is fast approaching. Check US AIR Guitar dot com for all the details as they happen. Bjorn Turoque and Hot Lixx are slated to be judge or MC, depending on who is most drunk come showtime.
Hot Lixx to perform at TESSLA unveiling
Posted by admin on September 23, 2008

File Under: Irrelevant Appearances
Hot Lixx has been invited to perform at the unveiling of the new TESSLA high performace automobile.

Hot Lixx back to the ER after another Air Guitar mishap
Posted by admin on September 21, 2008

Rumour has it that Hot Lixx Hulahan suffered yet another air guitar-related injury this weekend, while performing at a Cuervo-sponsored volleyball tournament in southern California. Details forthcoming, but initial reports include bloody sunglasses, skull stitches and grossed-out bikini models.
UPDATE: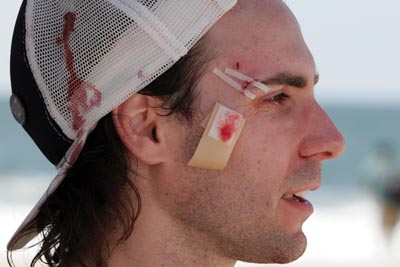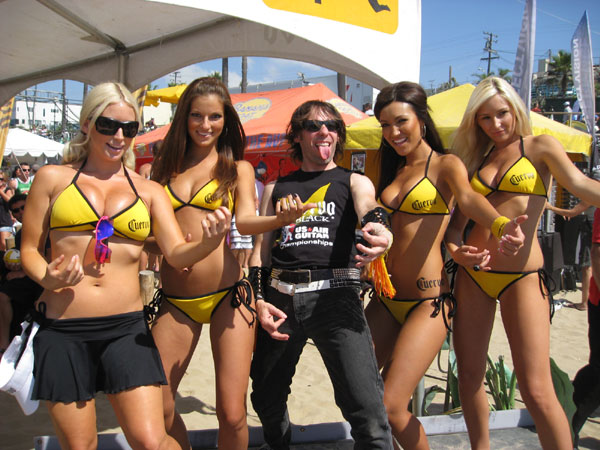 Hot Lixx meets/hates Gene Simmons
Posted by admin on September 20, 2008

Says Hot Lixx, "I was excited to meet this legend in the world of shitheadedness. I mean, that is a sucky category to be the best in, but then I can't say that air guitar is really the best category either... But honestly, he exceeded my expectations. He was truly, thoroughly, genuinely, a skeezy, arrogant dirtbag. I love when celebrities don't disappoint me!"
Hot Lixx takes his real guitar to Asia/Australia
Posted by admin on September 18, 2008

Rumor has it that World Champion Air Guitarist Hot Lixx Hulahan can play the "actual" guitar as well, and will be touring the nether-regions of the world with his band CONQUEST FOR DEATH starting in October, including: New Zealand, Australia, Indonesia, Singapore, Malaysia, Brunei, Philippines, Hong Kong and China. Click poster below for dates:

If Perez Hilton likes it then it must be gay after all
Posted by hulafan on September 1, 2008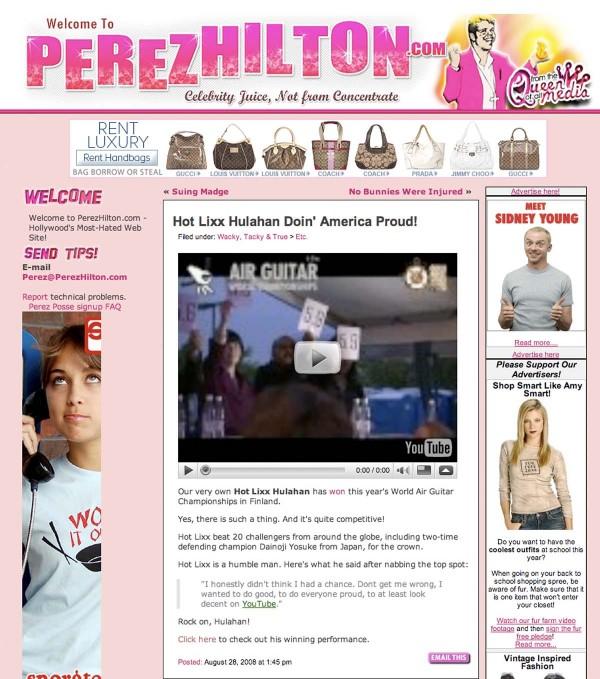 BBC Gets In On It
Posted by hulafan on August 24, 2008
http://news.bbc.co.uk/2/hi/europe/7578909.stm
Hot Lixx takes the world!
Posted by admin on August 8, 2008

We have only limited info so far, but our sources tell us that Hot Lixx Hulahan, the 2006 and 2008 US Air Guitar Champ, is now your 2008 Air Guitar World Champion! More info to follow!!!



Hot Lixx is US Air Guitar champ, again!
Posted by admin on August 8, 2008

Looks as if Hot Lixx has reclaimed his crown! He will be returning to Finland for another crack at bringing the World Air Guitar Championships title back to the U.S. This hasn't been done since Sonyk- Rok won in 2004. U.S. Air Guitar believes that if the U.S. deserves to dominate at anything one thing in this world, it should be competitive air guitar.



Hot Lixx injured, goes into Round 2 in second place
Posted by admin on August 8, 2008
Hot Lixx appears to have broken his thumb during his Round 1 performance. With plenty of duct tape he looks poised to keep competing.
UPDATE: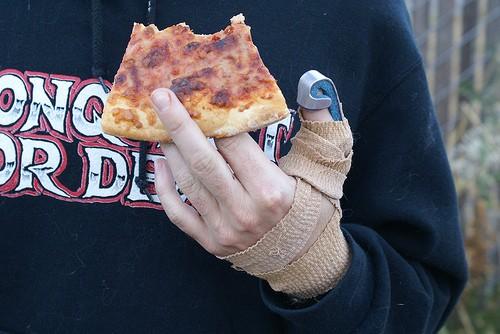 Hot Lixx Hulahan is 2008 DC Regional Champ!
Posted by admin on June 5, 2008

While only slightly less squashbuckling than last night, Hot Lixx' compulsory round in DC tonight still garnered him 6.0's across the board.

U.S. Air Guitar Finals 2008, Hot Lixx will see you there.

Hot Lixx comes close to victory in NYC
Posted by admin on June 4, 2008

Why must Hot Lixx face controversy every time he competes at the Bowery Ballroom in NYC? To quote Willie Geist from MSNBC regarding last night's competition:

But the highlight of the evening was Hot Lixx Hulahan's fifteen foot repel from the stage's curtain, before recovering among his fans in the crowd and then returning to stage to finish the song.
Pope Benedict XVI, who phoned early this morning from a bowling alley in Vatican City, declared Hulahan's performance "infallible." Hot Lixx's second round act received a near-perfect score of over 5.9.
However, Air to the Throne's strong showing in round one, combined with his second-round points, left him on top of his competition by just over a half point.
Hot Lixx takes air guitar on a dirt road!
Posted by admin on June 14, 2008


US Air Guitar is on the road!
Posted by admin on June 2, 2008

U.S. Air Guitar is rolling mercilessly across the country in a big-ass bus they have dubbed Raquel. Maybe it was actually Raquel Rockwell, I don't recall. A lot of the competitions are sold out but there is still one sure way to get in – COMPETE! Check out here for some details.
Air Guitar 7" record review
Posted by admin on December 23, 2007

Thanks to Bjorn Turoque and his standing search on google for all things "air guitar" which recently turned up this: 7inches, the definitive site for 7 inch records (yeah, other people still make them too), had this to say of HLH's EP single:

2007 Year End 7" Wrap Up
By Jason(Jason)
Anyone with the balls to put out a completely silent seven inch and become US air guitar champion will forever be hailed as a genius. Best back sleeve essay ever.
Hot Lixx Rocks ROCK BAND, mocks Little Caesars
Posted by admin on November 26, 2007

So you know that new video game called ROCK BAND? If you haven't then chances are you will soon. It is like Guitar Hero, but, like, times 10.

If you zero-in on the animated band in the background you might recognize the "classicly thin guitar-god physique" (SF Chronicle) of Hot Lixx Hulahan.

In his words:

Thanks to air guitar – and to a lesser extent my old band Your Mother – I was offered the enviable position of doing motion capture for a gotdamned video game! Seriously, air guitaring and a band that sang almost exclusively about farting and masturbating ultimately immortalized me in a video game…Whoda guessed?! After lots of phone calls and emails and posting 'audition videos' on YouTube at 3 in the morning I was enlisted to act out the following roles in the game: heavy metal guitar player, dramatic guitar player, and male drummer. I posted some pictures from the experience here. I had to change the names and captions to protect the nerdy.

In other news: after three months of auditions and brainstorming and trying to come to terms with selling out, Hot Lixx was denied a role in the new Little Caesars commercial campaign. They decided SF was too far away from LA and so went with a local actor instead. Conversely, Hot Lixx maintains he turned it down because they would have made him cut his hair.
Hot Lixx takes on Namibia, Botswana, Mauritius, South Africa, Mexico
Posted by admin on October 7, 2007

This may illegitimize Hot Lixx as an air guitarist but his fake air band (to use a phrase coined by Rockness Monster) is touring Africa throughout October. Check out the Conquest For Death website for details.

Speaking of international air guitar, here is a clip of a demo Hot Lixx did in Mexico City. 1200 people and it was only a demo.
MSNBC coverage of 2007 Air Guitar Championships
Posted by admin on September 10, 2007

How did it go? This MSNBC article and follow-up newsclip should clue you in.
America's Got Talent, Hot Lixx apparently doesn't
Posted by admin on August 30, 2007
Hot Lixx' stint on America's Got Talent has been documented. There is even a clip of the show towards the end of his diary.
Defenders of Your Face
Posted by admin on August 17, 2007

Tonight is THE BIG NIGHT. Hot Lixx is in NYC preparing to defend his national title as the U.S. Air Guitar Champion. By 'preparing' we mean that he is in upstate New York at the first annual U.S. Air Guitar Boot Camp. From what we understand this involves a lot of swimming, eating burritos, and sleeping in. He has also been (very) busy sucking up what last bit of glory he can by averaging one interview every three hours. Here are a few:

Esquire
ABC News (video)
Rolling Stone (video)
Air Guitar Nation – the movie
Posted by admin on May 11, 2007

We INSIST you go see Air Guitar Nation. It rules like no other movie and Hot Lixx will send you your ticket price back if you think otherwise.
Hot Lixx releases 7" record!
Posted by admin on May 2, 2007

Collector nerd alert!!! Hot Lixx has just released his own EP. Limited black-colored vinyl in a full-color sleeve. Complete with air guitaring tips straight from Hot Lixx' face. Email him if you want one.
Hulahan heads to Finland!
Posted by admin on August 12, 2006

Check out the Hot Lixx Hulahan feature in the San Francisco Chronicle this week! If you happen to get a copy of the paper, there's a big pic of Hot Lixx on the front of the Datebook section, plus more photos inside.

Hot Lixx is heading off to Finland for the Friday, September 8th World Air Guitar Championship! Feel free to send him an email at craigums@thelovesongs.com. Keep in mind he has nothing to do with this website, and that my dad is quite proud of Mr. Hot Lixx.


Additionally, there is some new footage from the NYC competition on Youtube. You can find it on the Videos page, or go straight to the source.
Air Guitarist pretends to be real guitarist
Posted by admin on July 1, 2006
Hot Lixx is heading off across the country to play real guitar and real drums in two punk rock bands this summer. Catch Love Songs and This Is My Fist all over this fine land. Dates in yellow feature both Love Songs and This is My Fist. See their Myspace pages for updates and specifics.
Hot Lixx cleans up for summer
Posted by admin on July 1, 2006
Your 2006 US Air Guitar Champion!?!?!?
Posted by admin on June 30, 2006

Well that's just weird! Craig "Hot Lixx Hulahan" Billmeier found his way into the most prestige title known to America: 2006 USA National Air Guitar Champion! Some people, apparently, are just born to rock. Like Bjorn Turoque, that dude seriously rocks. But somehow, through a combination of sheer luck, stupidity, clumsiness and massive air-ti-tude, Hot Lixx is our national champion! A national treasure, some might say. Craig is off to FINLAND for the World Air Guitar Championships in September 2006, and according to AP news, Hot Lixx promises to "Slay" the competition. More info coming soon.
New U.S. Air Guitar Champ Crowned! - Spin Magazine
After an intense compulsory round, Craig "Hot Lixx Hulahan" Billmeier blew away the competition in NYC with the help of Metallica and a sombrero.
By Spin Staff 06.30.06 3:00 AM

San Francisco's Craig "Hot Lixx Hulahan" Billmeier took home the title at the fourth U.S. Air Guitar national finals, held in a sold-out Bowery Ballroom in NYC. Hot Lixx beat out fierce competition — including last year's reigning champion Fatima "Rockness Monster" Huang — with his blustery energy, south-of-the-border style, and technical picking during Metallica's "Enter Sandman." His performance was so masterful that the judges overlooked the impressive butt-crushing skills of NYC competitor Andrew "William Ocean" Litz, who is known for his ability to flatten cans of Sparks malt liquor with his tush during performances.
Hot Lixx will head to Finland in September where he'll represent the United States in the world championships. We hope he'll fare better than our national soccer team did in the World Cup.
http://www.spin.com/articles/new-us-air-guitar-champ-crowned
Welcome to the Hot Lixx Hulahan website
Posted by admin on May 31, 2006
After winning the first ever San Francisco Regional US Air Guitar Championship earlier this month, Hot Lixx, adored by 10 if not 15 people across his family and his neighborhood, is surely now worthy of a website.
Copyright © 2008 Hot Lixx Hulahan | Header photo by Elsa Garrison | Site by Aldroid | Powered by Wordpress